Toyota van donated to Napa Valley animal rescue group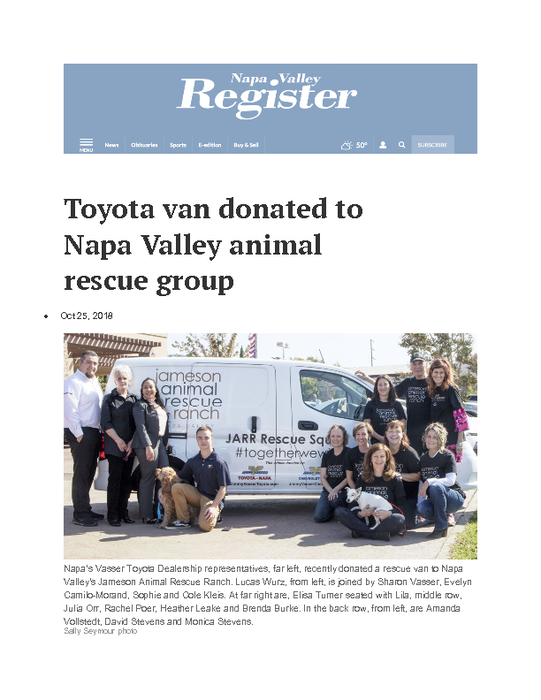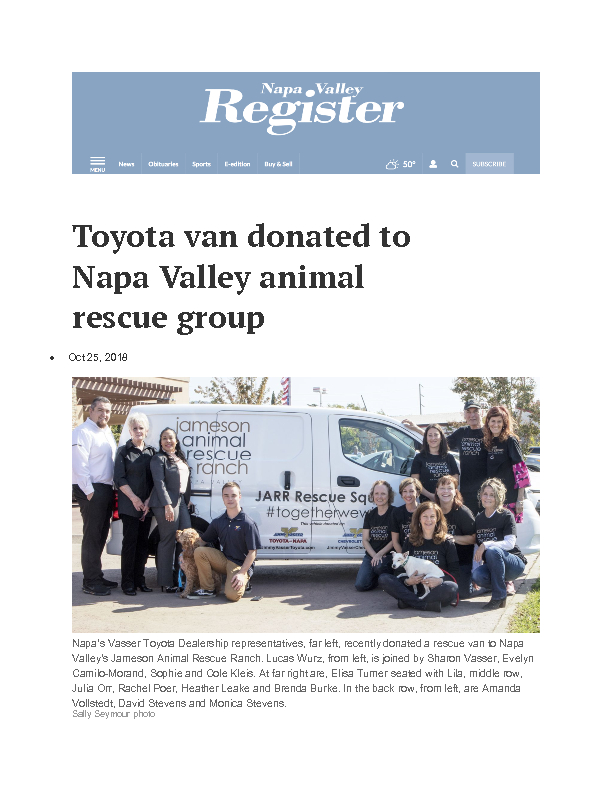 Napa car dealership owner Sharon Vasser presented the keys to a "rescue" van on Thursday, Oct. 11 to Jameson Animal Rescue Ranch (JARR).
Founders Monica and David Stevens, alongside their team of staff, joined the Vasser representatives to accept the van dubbed the JARR Rescue Vehicle at the Vasser Toyota Dealership on Soscol Avenue in Napa.
"The Vasser Family epitomizes the sense of community, generosity and love of animals that Napa Valley is known for," said Monica Stevens, co-founder, Jameson Animal Rescue Ranch. "We are grateful for their partnership with JARR."
The NV200 van will be used to transport small animals in emergency situations, to veterinary appointments, in the event of a natural disaster and to new adoption homes. It will also be used to transport equipment for the JARR vaccination clinics and will put in special appearances at local events such as the Napa Christmas Parade.
A statement from James E. Vasser Sr. and James E. Vasser Jr. read: "We all have the responsibility to make the world around us a better place. Supporting Jameson Animal Rescue Ranch a no-kill rescue and sanctuary is an honor and a privilege. Their love of animals and dedication to our community is an inspiration to us all."