Khalessi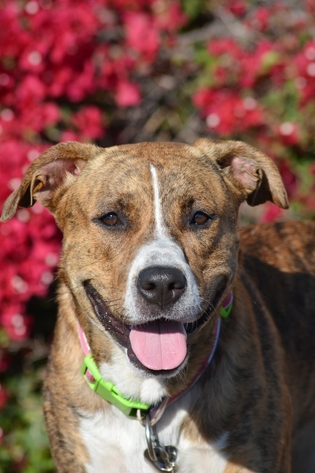 Dogs
Female
6 years six months
65 lbs.
- courtesy post -
Meet Khalessi (Khali)! Approximately 6 ½ years old, her DNA test says she is a Staffordshire Terrier (61%), Lab (13%), Shepherd (13%) and Husky (13%) mix, which means she is 65lb bundle of strong personality, high energy, and very smart.
At first with men Khali can be shy, but with slow introductions like making both new dog and human friends. She loves to give kisses, get ear scratches and neck rubs. If you let her, she will spend the entire evening on the couch with you, dozing, and just happy to have you in her life.
Strangers who try to get too friendly too fast, might get a warning growl or bark, but given space, Khali will generally approach on her own for a warm, cautious introduction. In the past she has lived with both big and small dogs and would prefer to be the dominant dog in a home. Long walks and swimming are two of Khali's favorite things, but she does have a strong prey drive. Her current foster parents are working with her with the "leave it" command and she has improved greatly.
Both house and crate-trained, Khali knows basic commands like "sit", "down", "come", "on your mat" and "go into your crate." She is terrified of really loud noises, like firecrackers and motorcycles, so would do best with someone that is dog savvy or has experience dealing with a fearful dog. Until she gains more confidence, a quieter household, without young children would be ideal.
Khali is spayed, micro-chipped, and up-to-date on her shots. If you have room in your heart and home for this sweet, loving beauty, please contact her current adoption counselor, Mary at (707) 342-0711 to schedule a meet & greet!