Blog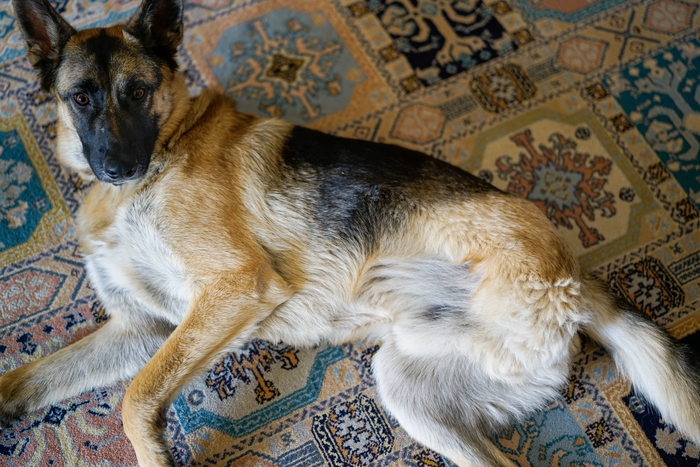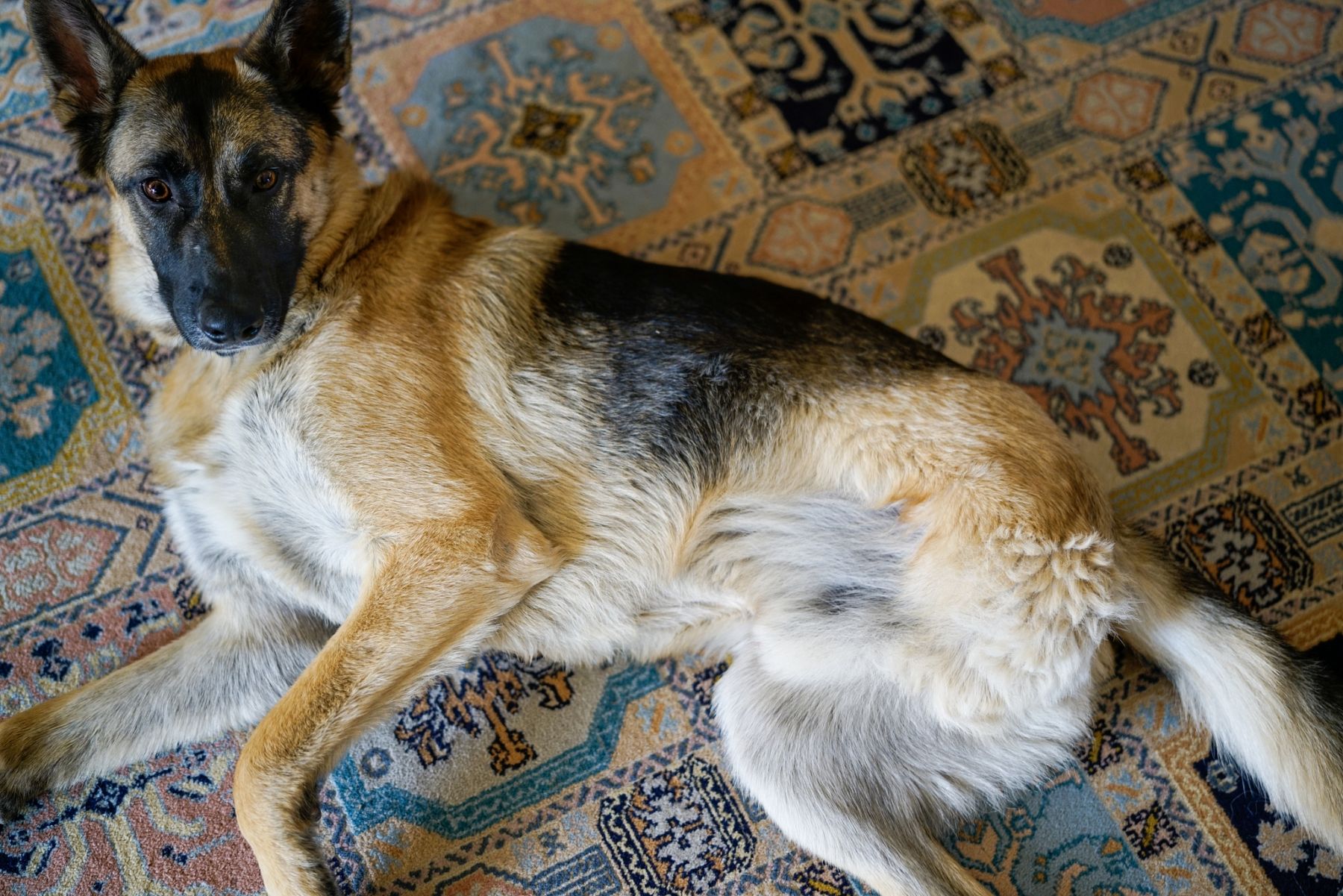 A gentle, one-year-old German Shepherd came to our microchip and vaccine clinic in American Canyon in March where we noticed a large fluid-filled swelling on the dog's neck. We recommended that it be looked at by a veterinarian but the guardian was unable to afford it. JARR sprang into action and registered Bo for our donor-funded CAAP program, which would assist in covering the costs. Once treated, we assumed Bo would recover; however, the swelling did not go down, and after additional expensive treatments, he was not improving. Finally, it became necessary for the veterinarian to operate on Bo's neck, whereupon they discovered the possibility that the poor dog may have been used as a drug mule in his puppy days based on scarring from a past surgical incision. Bo was finally able to get the care for his wound thanks to CAAP funds. Bo looked up at us with his big black eyes and thanked us in his own quiet way.
Six months later, we received a call from his guardian. He was frantic: "I think Bo broke his leg," he said. JARR's CAAP manager, Amanda Vollstedt, immediately made an appointment at Napa West Veterinary Hospital. Upon arriving at the appointment, Amanda noticed that the dog was malnourished and not bearing weight on his left hind leg; we were told Bo fell off an ATV while it was in motion.
The guardian knew he would be unable to manage the financial burden of amputation surgery and proper aftercare, so he reluctantly agreed to part ways with Bo and relinquish him to JARR.
Now in our care, JARR spoke with the hospital to get Bo into surgery. JARR then hit the social media air waves to find a foster family post treatment to provide a quiet and caring place for him to rest. After the surgery, we placed Bo with some wonderful foster parents who were able to provide a loving home. Jen and Robert McCaffrey didn't hesitate to give him the attention and care he needed. With plenty of belly rubs, Bo's recovery went smoothly. The internet was abuzz with Bo's story; everyone was falling in love with him, including his foster family! In fact, after a few weeks of recovery, the McCaffrey family decided that they could not bear to part ways so they adopted him!
Bo now lives the life we imagine for all animals. He has a new pup friend to play with and two very loving humans of his own. Bo is described by his new family as being loving, gentle, and curious. He gets along with other dogs and, occasionally, shows off his tripedal skills for the kids around the neighborhood. We are thrilled Bo is thriving and can't speak enough to the generous donations that support the great deeds and lives saved due to JARR's CAAP.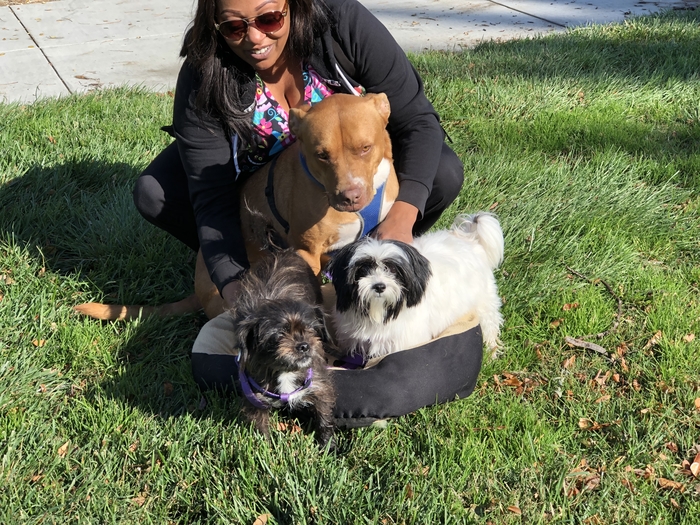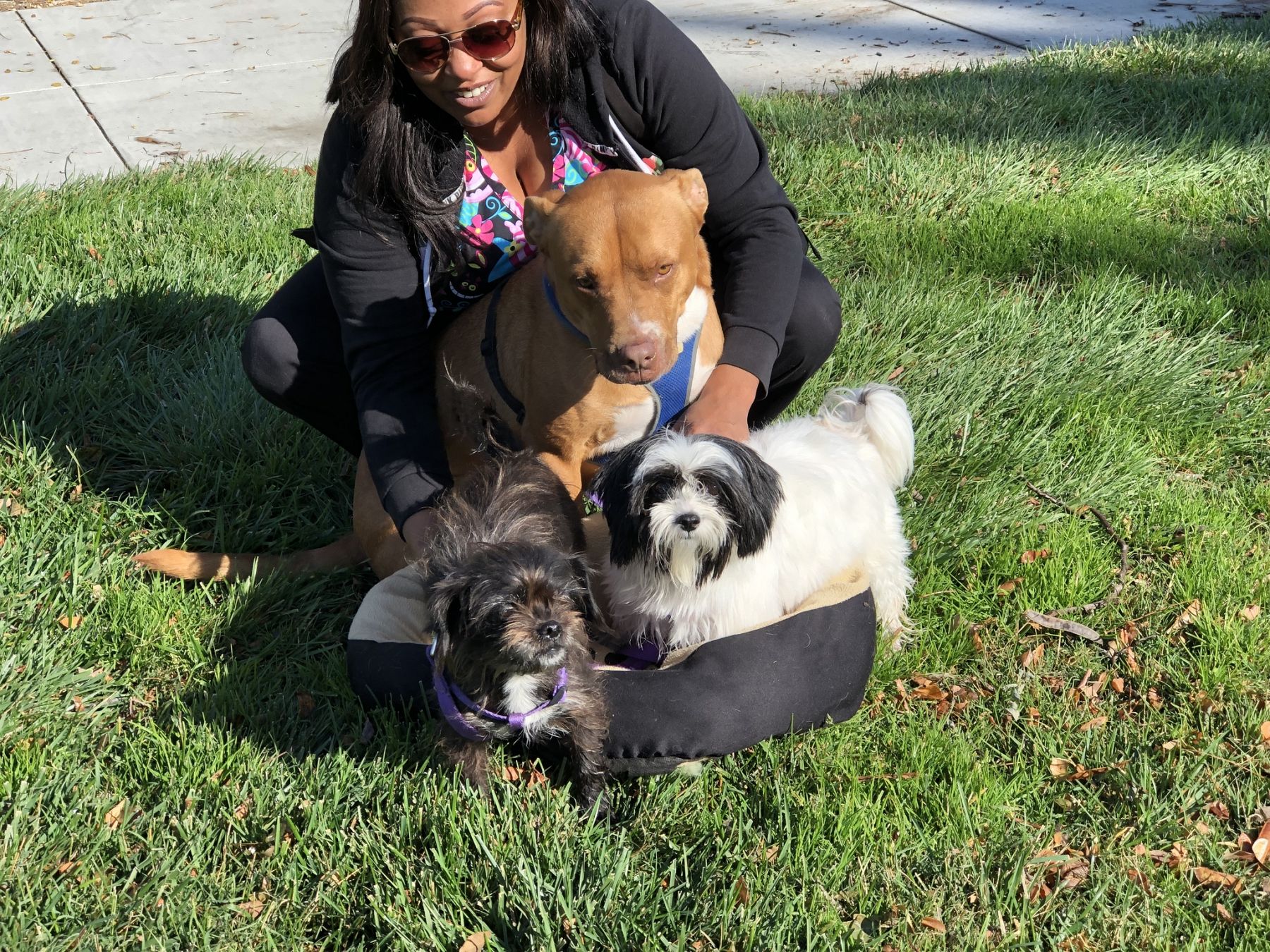 Upon returning home from her part-time job, Alicia found her dogs tied up outside without water on a very warm day. Alicia teared up. She had asked her roommates to watch the dogs while she was at work and now realized it was simply too unsafe for her dogs to remain at her current home. She got her pets fed, packed up her remaining items, and headed out to her car where she and her dogs would spend the next two months of their life.
Fast forward two months: with her three dogs and nowhere to go, except shower at a local rest stop, things became nearly unbearable for Alicia. Although she loved her dogs so much, she had reached her breaking point. Around this time, a woman by the name of Marie Sandoval from Vallejo, had been keeping a close eye on Alicia's story and decided it was time to reach out to Jameson Animal Rescue Ranch for some support. Upon hearing Alicia's situation, Monica jumped into action and got a hold of Alicia. Monica's heart went out to the dogs and Alicia, and so she decided JARR would help only after certain criteria had been met and some due diligence was conducted. The result was life changing: Jameson Animal Rescue Ranch worked with Alicia to get her and her dogs off the streets and into her own apartment right before the night temperatures began to drop. Alicia was finally able to begin to pick back up the fallen pieces of her life.
Alicia's story is a common one and represents the ongoing work that Jameson Animal Rescue Ranch does to help keep the animals and their humans safe, all of which is due to the generosity of our donors and the solutions-based CAAP program. Alicia was brave enough to sit with us and tell her tale; and we made it clear that her story would be used to let others who may be in the same situation know that they are not alone. Empathy is one of our key strengths and our animals bring that out in us, while the community helps galvanize it. Alicia stated it best one afternoon over coffee:
"Monica and Jameson Animal Rescue Ranch are my heroes. I felt like I was going crazy, doing everything I did for the dogs, but I just could not part from them. They are my babies and I share a love and a bond that is unconditional. I never gave up on them and they got me through the worst of it. All of the pain and the tough times was worth the sacrifice."
Jameson Seeks Social Media Intern
Position Title: Communications Social Media Intern
Job Type: Internship
Hours: 10-15 hours per week
Remuneration: Unpaid
Location: 1199 Cuttings Wharf Road, Napa, unless otherwise specified
Reports to: Communications Director as well as Social Media & Content Development Consultant

About Jameson Animal Rescue Ranch
Founded in 2014 by David and Monica Stevens (proprietors of 750 Wines), Jameson Animal Rescue Ranch (JARR) is a 501(c)(3) registered nonprofit organization that is transforming the way we think about animal welfare and advocacy. Seeking to engender systemic change in the outdated industry of animal rescue, which suffers from a significant lack of transparency and accountability, JARR is committed to ending animal hunger, cruelty, and overpopulation. To do so, JARR offers a variety of programs and services to stem the tide of animal deaths from euthanasia; and solve some of the most pressing problems regarding animal abandonment, maltreatment, and negative environmental impact. JARR also collaborates with and acts as a liaison for various animal welfare groups locally and statewide.
About the Communications Social Media Internship
JARR exists to foster harmony between humans, animals, and the environment to create a kinder, more compassionate world. We invite you to come with us along this journey. Working to affect real change in the world, you will help us by translating your passion for animal welfare and advocacy into our communication social media efforts. This internship is also the perfect opportunity to build your resume. There's room for you to collaborate with pioneers and luminaries, with vast and powerful networks.
Responsibilities Include:
Work hand-in-hand with the Communications Director and Social Media Consultant to help drive our mission forward through story telling via social media and other channels, as well as thru communication management activities

Leverage your excellent knowledge of social media platforms (FB, IG, Twitter, etc.) and their associated photo/video specs (i.e., square and stories):

Assist with post development for social media

Prepare visual content for posts

Shadow leads for story content development

Perform social media administrative tasks (i.e., consent form signature acquisition, photo categorization, etc.)

Be onsite at our Ranch to facilitate your efforts

Dedicate 10 to 20 hours per week to accomplishing the job

If applicable: Earn internship credits through your school's department
Requirements:
One year minimum experience using social media in a professional or academic setting

Patience and ability to work in tight turnaround, high-stress settings and emotional situations

Good communication skills

Oral Communication – Engaging effectively in dialogue

Writing – Communicating effectively in writing, editing, and proofing

Photography

Passion for helping animals and people, a willingness to accommodate animals in the workplace and a commitment to JARR's mission and brand attributes

Strong desire to learn the ins and outs of communication management

Duration: 6 months; or, if applicable, semester long

Email for more information:
Brad Schomburg, Director of Communications
Jameson Animal Rescue Ranch
brad[@]jamesonrescueranch.org
www.jamesonanimalrescueranch.org
#WeAllShareThisWorld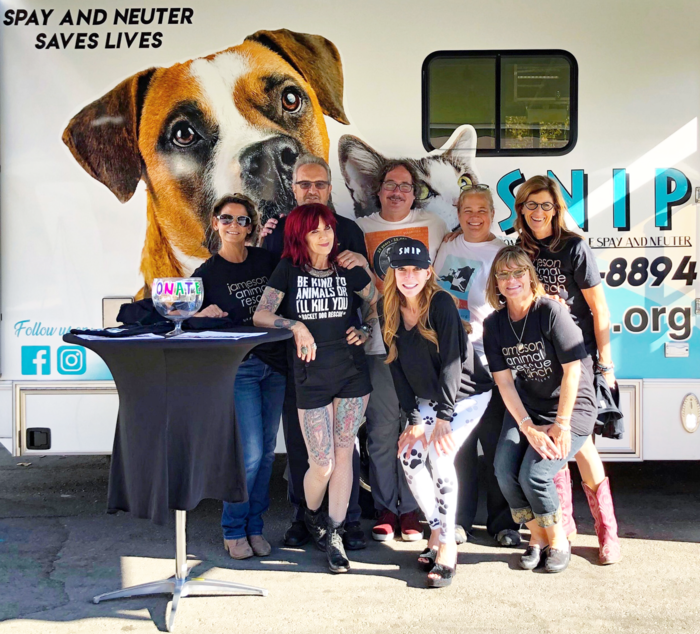 This past weekend, Jameson Animal Rescue Ranch partnered with Spay Neuter Imperative Project (SNIP) and Pet Food Express to spread the word about the importance of spaying and neutering.
Did you know?
Just one female dog and her offspring can produce a staggering 67,000 puppies in only six years.
In seven years, one female cat and her offspring can produce an incredible 370,000 kittens!
Reasons for Spay/Neuter: Prevents millions of animals from being born that would otherwise suffer from neglect, cruelty or face euthanasia.
The medical benefits:
Spaying helps prevent uterine infections and breast tumors, which are malignant or cancerous in about 50 percent of dogs and 90 percent of cats.
Neutering prevents testicular cancer and some prostate problems.
And behavioral benefits:
Your spayed female animal won't go into heat and present behavioral issues.
Your neutered male animal will be less likely to roam away from home.
Your neutered male animal may be better behaved.
Interested in being part of the solution? Please ask about sponsoring a spay/neuter clinic or donating $100 for a spay/neuter!
Source: https://www.peta.org/issues/animal-companion-issues/overpopulation/spay-neuter/