Sadie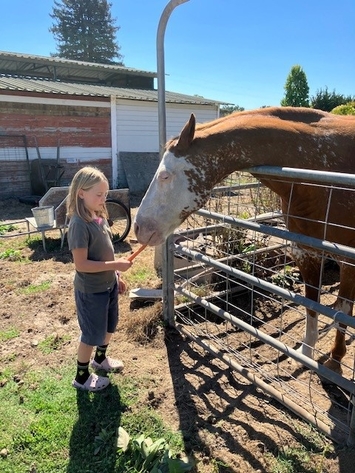 Horses
Female
24 years
"Sadie, Sadie, beautiful lady!" From her gorgeous red coat with its bold white markings to her crystal, bright blue eyes, Sadie is a stunner! This beautiful girl is also deaf, so requires non-verbal cues alerting her of your presence before approaching, like hand gestures to catch her eye.
Sadie is incredibly sweet with her human guardians. When she spots you heading for the barn, she nickers, calling for a treat. She is first to the fence to greet you and she loves to be brushed.
Sadie would be a perfect pasture mate for another retired horse or horses. She is unfamiliar with other farm animals, however, and prefers they keep their distance.
Sadie is independent and enjoys being out in a large pasture where she can roll and stroll around. She has a lot of energy and spunk, defying her age of 24. She loads in the trailer without problem and ties easily for grooming.