Lil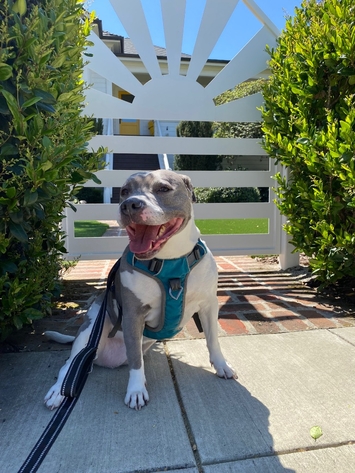 Dogs
Female
9 yrs
Meet Lil… A charming 9 year old tripod Staffordshire Terrier who will steal your heart. Lil was previously in a loving home but unfortunately her previous person was unable to continue caring for her due to health reasons. Lil wants nothing more than a comfy couch, a warm spot in the sun, a daily sniff, a stroll in the neighborhood, her pet stuffed otter, and most importantly her person (or peeps) to call her own. Lil is smart, mellow, slightly stubborn and always endearing.
In spite of losing her rear left leg in a car accident a few years back, Lil is otherwise healthy and gets around great on her remaining limbs. She loves her daily neighborhood walks and manages great on leash. We believe Lil will do best in a cat-free home but she should be okay with another mellow dog with a proper introduction. She recently had a successful visit to a busy outdoor restaurant in downtown Napa and has been having lots of greet meet and greets with the neighborhood dogs.
So if you are looking for a loyal, mellow, and smart companion with loads of personality, a thumping tail, and the softest fur… Look no further than Lil. She will make you smile on a daily basis!