Big Poppa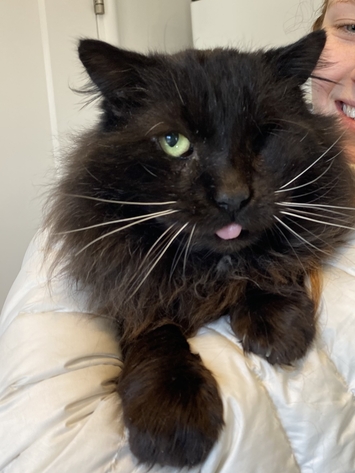 Cats
Male
8 yrs 3 months
Big Poppa is a total hunk of love with the most beautiful black coat. He is a former feral cat who now really wants nothing other than to be warm and loved. He makes gentle biscuits, loves his food and treats, and gives sweet head nudges to his person. He is a confident cat who would make a very loving companion. Big Poppa is 8 years old and only has one eye but he doesn't let that keep him down!
You do need to earn Big Poppa's trust before he will let you pick him up without complaining, but once you do, he's a sucker for cheek scratches while being held and will flop over onto your shoulder.
Big Poppa came to us with a severely infected eye, a rotten tooth, and not yet neutered! After recovering from surgery, he's ready to live the cushy life indoors. Big Poppa has FIV (no biggie, he has no symptoms now) and kidney disease which is managed well on prescription food. He would do best in a home with other FIV positive cats, or as the only cat in the home.