Blog
Summer Travel With Pets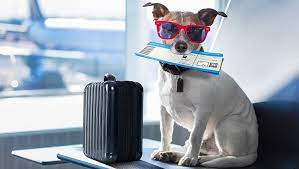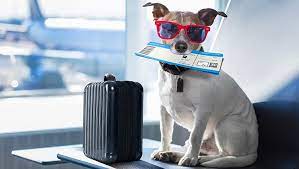 Traveling With Pets This Summer
By Jeffrey Richard, Jameson Volunteer
The pandemic – or at least, we hope, its life-altering impact – is behind us. We are traveling again, and many of us want to travel with our dear pets who provided so much comfort during our time at home. But before you hop into your car with your pet or book a flight with the intent to bring your pet along, be aware of the challenges that traveling with pets can pose.
[Joke alert] How do dogs travel across the country? They take the Greyhound.
But you probably have other modes of transportation in mind.
If By Car
The Importance of Using a Good Pet Harness or Pet Seat in Your Car
Just as we humans need the protection of seat belts, it is vitally important to use a pet car seat or harness that keeps your pet secure in case of an accident or other sudden stop. This not only protects the pet from potential injury but also avoids driver distraction. According to a AAA study cited by PetTravel.com, pet movement in the car is the third most prevalent cause of diver distraction. Use of a car seat or harness for your pet also reduces any chance that the pet might run off when car doors or windows are opened.
Other Recommendations for Car Travel With Pets
One resource for information about traveling with pets by car is the PetTravel.com website. In addition to a checklist of items to bring with your pet in the car, PetTravel.com provides the following tips:
If your cat is traveling with you, make a place for a portable kitty litter tray. Behind the front seat will do well in some cars.
Pack their pet carrier and/or pet crate as these are essential for traveling pets. Many hotels will not allow pets in rooms unattended unless they are crated.
Make sure your air conditioning is working properly and that you use it while driving.
Don't roll down the windows and let your dog hang its head out of the window, and never have your pet in the back of a truck.
Stop every two to three hours to let your pet stretch its legs.
Always keep your pet on a leash while in public and respect the space and rights of other travelers.
Another resource: Keeping Pets Safe While Driving
If By Plane
Potential Issues to Consider
If you plan to travel by air with your cat or dog on board, one of the biggest potential obstacles will be "pet embargoes" that many airlines impose to restrict pets' air travel during hot weather in order to protect them from harm. The TripsWithPets.com website (https://www.tripswithpets.com/twp-blog/too-hot-to-fly-summer-airline-pet-embargoes) provides information as to which airlines had imposed embargoes as of the date of its publication. You should, of course, check with each airline that you are considering. If an embargo is in effect on the day of your flight, the airline will work with you to re-route your flight, if possible, or schedule your flight for another day.
TripsWithPets.com also provides a list of questions they advise travelers to answer before they book a flight with the intent to bring their pets:
Is your pet healthy enough to fly?
Is your pet brachycephalic?
"Pets that are brachycephalic –those with short muzzles and flat, "snub noses," such as Persian cats, pugs and bulldogs – are more susceptible to breathing problems, and may have a harder time adjusting to pressure and air changes during flight."
Is your pet's temperament well-suited to flying?
Does your pet meet the US Dept. of Agriculture guidelines in order to fly? (At least 8 weeks old and fully weaned for five days).
Will your dog be allowed to fly with you in the cabin? (Generally, airlines allow in the cabin only those pets that weigh less than 20 pounds and are transported in a compliant kennel that fits securely under the seat.)
Will your pet fly in the cargo hold? If so, what is your airline's track record for loss or injury to pets in the cargo area? The Dept. of Transportation publishes a monthly Animal Incident Report that is publicly available.
Do you have (or need) a health certificate for your pet?
Are you flying during extreme temperatures?
"If your pet is particularly sensitive to temperature or pressure, or has breathing issues, the cargo area may not be safe."
When will you be traveling?
"If you need to fly during peak travel hours, such as late afternoon or early evening, or peak travel seasons, such as summer or spring break, expect more crowds, less space, more stress and less comfort for your pet."
Are you planning to take a direct flight?
"Layovers increase the chances of something going awry with your pet. Taking a direct flight will reduce the possibility of complications and minimize stress on your pet."
Pet-Friendly Airports and Airlines
In planning your itinerary with those questions in mind, it may be helpful to know which airports and airlines make accommodations for pets. TripsWithPets.com provides a summary of some of the most pet-friendly airports at https://www.tripswithpets.com/twp-blog/pet-travel-made-easier-top-us-pet-friendly-airports The listed airports include San Francisco, Los Angeles, Reno, Phoenix, and San Jose among others.
According to a 2021 article on MillionMileSecrets.com, the following airlines are pet-friendly:
American Airlines: Best for West Coast travel
United Airlines: Best for East Coast travel
Delta Airlines: Best for small pets
Southwest Airlines: Best for cheap pet fees
JetBlue: Best for pet amenities
Allegiant Air: Best for pet check-in process
Frontier Airlines: Not really the best for anything
Alaska Airlines: Best for unique pets in checked baggage
Hawaiian Airlines: Best for inter-island flights in Hawaii
The Cost of Pet Travel by Air
Be prepared for the expenses that come with pet travel by air. According to an article in the online edition of Travel and Leisure magazine, travel with your dog may entail the following costs (which are likely to be similar for feline passengers):
Veterinary costs if a health certificate is required by the airline
The cost to microchip your dog – about $45
"Airlines typically charge a $100 to $125 one-way fee to bring your dog in the cabin. And, if you want your pet to fly in the cabin, you'll need to purchase an airline-compliant pet carrier, which can cost from $30 up to $250, according to Consumer Reports."
"Alternatively, having your pet fly in the cargo hold can range anywhere from a few hundred [dollars] to well over $1,000."
https://www.travelandleisure.com/trip-ideas/pet-friendly-travel/how-much-it-costs-to-travel-with-your-dog
Who Can Help You?
The following bonded and insured companies are among those that offer pet air travel services and assistance. (Note: By noting these companies, Jameson Humane does not guarantee or vouch for the quality of their services, but has found positive reviews online). Although these services are usually used in connection with residential moves, they are also available resources for vacation travel.
Pet Porters (https://thepetporters.com/) handles transportation of pets on international and domestic flights and also moves pets by ground. They also provide "pet nanny" services to transport small pets eligible to ride in the aircraft cabin.
Blue Collar Pet Transport (https://bluecollarpettransport.com/) is another company that offers "pet nannies" to accompany small dogs and cats in the aircraft passenger cabin.
Three: Where to Go With Your Pet
[Joke alert no. 2] What type of market should you never take your cat or dog? A flea market!
BringFido.com provides extensive information about pet-friendly hotels, destinations, and activities. For instance, let's say you are traveling to North Carolina and want to learn about good places to hike with your dogs, you would go to www.BringFido.com and click on the pull-down menu in the search window on the home page. Select the "activities" menu choice and type in "hiking in North Carolina." If you then click on "fetch," the search yields several recommended hiking activities suitable for dogs including the North Carolina Arboretum, the Appalachian Trail, and the Nantahala Outdoor Center. The search engine allows you to explore a way range of activities, places to stay and events.
Another resource to find pet-friendly destinations across the country is DailyPaws.com. The site includes ways to search for dog-friendly vacation destinations and hotels:
https://www.dailypaws.com/living-with-pets/pet-travel/dog-friendly-vacations
https://www.pettravel.com/pet-friendly-hotels-search.cfm
Please enjoy your summer travel with your pets. And remember: never leave them unattended in your car. (See last month's article on heat exhaustion and heatstroke.)