Blog
LEAP for the Animals!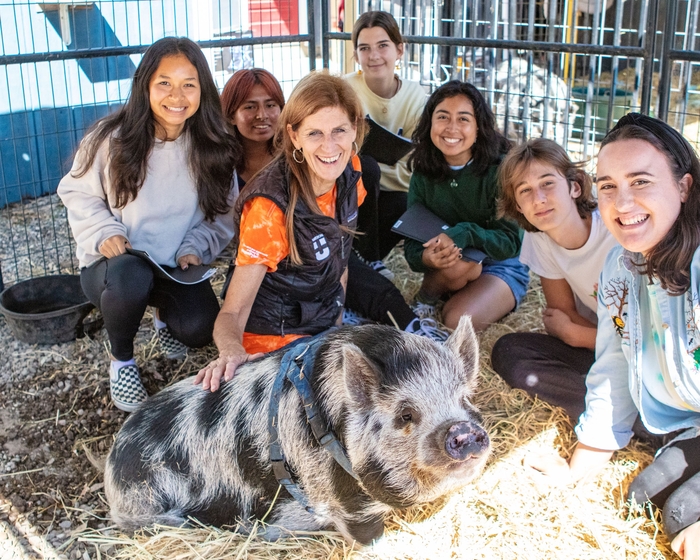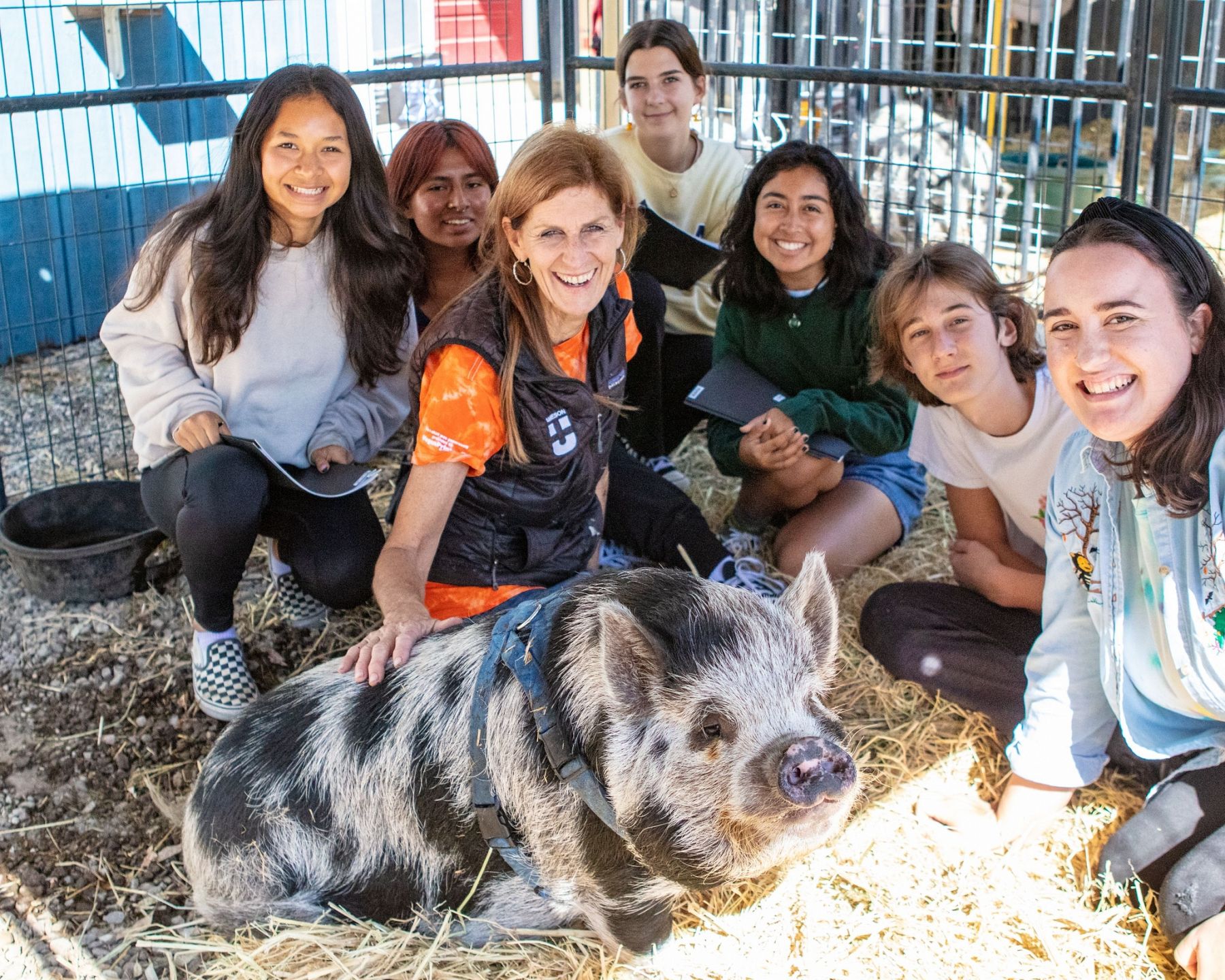 Leaders for Ethics, Animals, and the Planet "LEAP" Is a Groundbreaking and Compassionate Animal Care and Advocacy Program for Teens
by Jeffrey Richard, Jameson Humane Volunteer
In some respects, the aims of organizations such as 4-H and Future Farmers of America (FFA) are worthy and commendable. Such agricultural programs are intended to give young people a sense of responsibility by teaching them to care for animals. But they also end up causing sorrow and feelings of guilt in the kids who raise the animals when it comes time to relinquish them to be slaughtered.
"So many of us have seen them, those heart-wrenching photos posted to social media, showing kids bawling while standing next to a lamb or a cow or a goat. The animal has a ribbon pinned to them or a number spray-painted on their back. They're standing in the middle of an auction ring, and the caption, written by the parent, describes how proud they are of their child, a participant in 4-H or [FFA], who has dutifully raised their animal for a year and now must sell them off to the highest bidder.
"The auction is a difficult and bittersweet moment for the child, which the parents often acknowledge, but more importantly, it is a valuable life lesson (and there may be some money to win). The lesson is that the early death awaiting the animal is all but inevitable. They were raised to be slaughtered. This is just part of life. There is no other option."
https://sentientmedia.org/when-4-h-kids-choose-sanctuary-over-slaughter/
In the past few years, however, more and more students in the traditional programs have rejected the long-established notion that death is inevitable for the animals they care for, and have sought a happier ending for their charges. Many rescue organizations are helping by giving sanctuary to the animals raised through 4-H and FFA programs. Unfortunately, such sanctuaries are often overcrowded and underfunded. So, for most kids and their animals, sanctuary is not readily available. Sadly, the vast majority of the traditional ag program animals are slaughtered.
But now, at long last, a sensible and viable alternative to 4-H and FFA exists! Three northern California animal sanctuaries have joined forces to invent a new way of training students in all aspects of farmed animal care. In February 2022, Jameson Humane, Blackberry Creek, and Rancho Compasión launched Leaders for Ethics, Animals, and the Planet (LEAP). LEAP provides a compassionate alternative to the traditional agricultural programs – one that does not inflict upon students and their families the emotional trauma and financial cost that are part and parcel of the old programs.
LEAP provides training to high school students in three crucial areas: (1) how to care for rescued farm animals, (2) the ethical issues facing society in condoning the sacrifice of animals for commercial gain, and (3) demonstrating the science behind animal agriculture and climate change and to the rapid disappearance of wild animal habitats. In providing this training, LEAP bestows on students all of the positive benefits of the other programs (leadership training, hands-on animal care education, and a sense of accomplishment, responsibility, and self-reliance), but without sacrificing the lives of farmed animals in the process. LEAP empowers young people, teaching them that empathy for others (both humans and animals) is a strength, not a weakness, and instilling in them an appreciation for the fact that animals are sentient beings who should not be treated as commodities.
The LEAP Program Goes Well Beyond Mere Animal Care Training
LEAP provides education and training for high school students in the areas of:
hands-on, compassionate animal care
food and agricultural systems
leadership development
wildlife and habitat conservation
farmed animal welfare
human health supported by a vegan diet
the intersection of human and animal rights
climate change solutions
social emotional learning
ocean conservation
food deserts and food insecurity
domestic animal care and community outreach
From September through May, for approximately 10 hours per month, students and their peers meet at a local animal sanctuary to care for rescued animals, assist with infrastructure projects, and participate in a humane education curriculum, all culminating in a community-based project related to the rescued animals.
Students attend hands-on workshops at local sanctuaries or other participating organizations to participate in activities such as animal care, rewilding projects, habitat clean-up, veterinary demonstrations, community gardening, and vegan cooking among other subjects.
Students also gather at their local LEAP chapter for monthly classroom lessons and learn from experts in various areas related to animal care and the environment. Topics include ethical issues of food, climate change, eco-anxiety, and farmed animal welfare. Students and their teachers discuss challenges and solutions related to these topics.
LEAPers participate in service hours each month ranging from assisting with sanctuary tours and events, helping with public outreach and education, serving at community wellness clinics, cleaning living spaces and caring for animals, assisting with local rewilding projects and wildlife habitat clean-up, gardening, and helping with other projects of interest to them at their local sanctuary or in their communities.
At the end of the student's completed year with LEAP, they are eligible to apply for competitive scholarships to go toward college or career training. LEAP offers these scholarships to encourage initiative, leadership, and hard work. The scholarships demonstrate to students that they can earn money for education by helping animals rather than exploiting them for money by selling them for slaughter.
The Origins of LEAP
LEAP Co-Founder Danielle Hanosh, who is Executive Director of Blackberry Creek Farm Animal Sanctuary, describes the origins of the program:
"The original student leadership program began at Blackberry Creek and was inspired by the bravery of an Orange County, California, high school freshman named Audori. As an elective at her school, she participated in an FFA class and cared for a pig named Sebastian. When Audori learned that the program intended to sell Sebastian for slaughter, she decided to take steps to ensure him the long, happy life he deserved. She raised the funds necessary to buy Sebastian from the program through a crowdfunding campaign. She then placed Sebastian in his safe, permanent home at Blackberry Creek.
Sebastian's story turned into the catalyst that inspired other students to reach out, seeking not only sanctuary for the animals they had lovingly raised but the chance to continue to care for and learn about farmed animals while being directly involved in changing the way society views them. With the need evident for an opportunity that would encompass leadership, responsibility, sustainability, and compassion, the first iteration of the program was born."
Monica Stevens, Co-Founder of Jameson Humane and LEAP:
"We regularly receive calls from students in other ag programs who have lovingly cared for pigs, cows, sheep, and goats and have come to the realization that they will be going to auction, to slaughter, and want to do what they can to save them. Jameson knows there is a more compassionate path for students who would like to work with and do better by the animals."
Miyoko Schinner, Founder of Rancho Compasión and Miyoko's Creamery, and Co-Founder of LEAP:
"Students who raise slaughter-bound animals are confronted with difficult and sometimes distressing experiences in order to complete these programs. Sometimes, other programs may shame students who do not wish to slaughter their animals, whereas LEAP teaches that there is always a compassionate option. LEAP provides the solution to these outdated models by teaching students about kind care systems for animals in a supportive social-emotional learning environment."
What LEAP Graduates are Saying
"I learned about the workers in factory farms and how many of them are undocumented immigrants who work for low wages in harsh conditions. I also learned about the benefits eating plant-based can have on the environment and climate change and even one's health. The animals are treated so cruelly within factory farms and they don't have a voice. They need leaders to speak up for them, which is what leapers can learn from this program." - 2023 LEAPer
"It was an amazing experience that both I and my family have learned so much from. It has definitely impacted our diets and outlook on farm animals. So happy for a chance to meet the animals!" – 2023 LEAPer
LEAP is Expanding Across the Country and Needs Your Help to Fulfill Its Potential
In just the first year, six sanctuaries joined the LEAP movement. LEAP is now entering its second phase by launching the program across the country with the goal of gaining the participation of 25 additional partner sanctuaries. But to achieve this goal and to make a nationwide impact, LEAP needs financial support.
LEAP's expenses during the first five months of 2023 have been $40,250. Projected expenses for the fiscal year 2023-2024 are $264,600, which includes planned scholarship funds. LEAP does not charge students for the program. LEAP organizes and produces all materials necessary for the curriculum and provides students with a stipend for the vegan lunches served during the program. LEAP also offers students the opportunity to compete for scholarships through the completion of projects promoting animal welfare and/or climate change.
To gain the participation of animal rescue organizations across the county, it is vital that LEAP continue to offer its programs at no charge to participating sanctuaries and at no cost to students. To pay for the expenses of operating the LEAP program and to fund scholarships, LEAP needs to raise money through charitable donations.
LEAP has received a pledge from an anonymous donor to match up to $150,000 in other contributions. LEAP aims to achieve that goal by this summer in order to enlist the participation of sanctuaries across the country. If you are in a position to make a donation, your gift will be tax deductible and will be doubled by the anonymous donor. In so doing, you will be making a real difference in the development of the ethical leaders of our future, in the protection of farmed animals, and in the preservation of the health of the planet. Please make a donation of any size by going to https://leapforanimals.org/.